Paul's Blog Entries for February 2006
Wednesday 1st February 2006
Local Packages
Fedora Extras
Submitted an updated version of perl-Math-Pari (2.010703) and tweaked the %{pariversion} macro definition to be more robust when handling two-digit version numbers
Joey Barton
Joey's agent said it wasn't all about money but it seems that that's exactly what it's about. Joey wants parity with the club's top earners (and the offer the club has made will apparently make him the third-top earner at the club), yet many other players are established internationals and Joey is well short of that level at the moment. I think there'll be a hot reception for him at the game tonight.
Newcastle Game
Quite an enjoyable game, though Newcastle's defence was terrible. The first couple of goals were like those we used to concede on a regular basis, with no closing down on the edge of the box when Riera scored the first, and neither Boumsong nor Bramble making a challenge on Cole for the second. As for the third, Vassell ran past Boumsong as though he wasn't there; did someone say that Boumsong was better than Distin once? Methinks they were having a laugh.
Joey got the reception I expected, though credit to him for putting in a good performance. I'd had given MoM to Sinclair (again) personally though.
Thursday 2nd February 2006
Souness
Can't say I'm surprised he got the chop. Their defence was awful and their goals scored record of late speaks for itself.
Local Packages
Updated getmail to 4.5.0
Updated bittorrent to 4.4.0, and removed 4.2.2 from the repository; FC-3 users will have to join the users of other ancient distributions and use the curses client instead of the GUI one

Updated perl-Module-CoreList to 2.03
Fedora Extras
Updated bittorrent to 4.4.0 for devel only; will wait a week or so before syncing FC-4, and I won't be syncing FC-3 at all due to the unsatisfied pygtk2 >= 2.6.0 dependency for the GUI
Friday 3rd February 2006
Local Packages
Updated perl-Module-CoreList to 2.04
Fedora Extras
Someone raised a bug on my bittorrent package, regarding BitTorrent using mozilla rather than firefox for the search torrents feature. BitTorrent uses python's webbrowser module to bring up a browser, and this seems to look for mozilla-firefox rather than firefox, and the Fedora firefox package only includes the binary firefox. So I think the best fix would be to fix the python package in Core.
Monday 6th February 2006
Fedora Extras
Updated bluefish to 1.0.5
Local Packages
Tuesday 7th February 2006
Wednesday 8th February 2006
Firewall Rebooted
Rebooted goalkeeper after 66 days of uptime in order to use kernel-2.6.15-1.1831_FC4, which fixes a remotely exploitable bug in ICMP (CVE-2006-0454).
Leon
Leon's current favourite activity is touching his toes.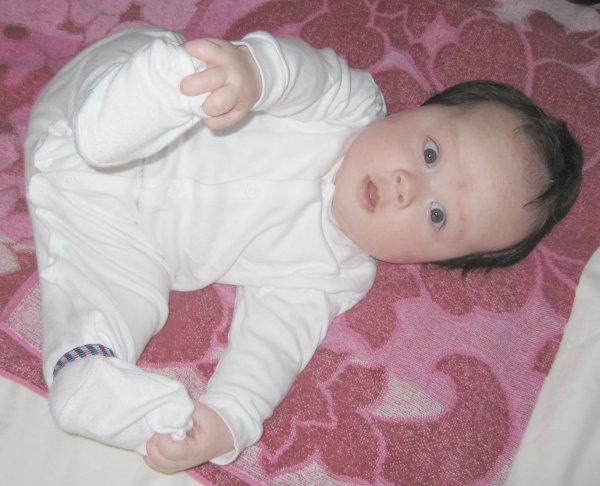 Fedora Extras
Wiki
Updated to version 1.5.2 of moin. My package now includes a link to the dictionary from the words package for the spellchecker, so I removed the old link that I made manually and also the cache file.
# service httpd stop
# rpm -Uvh moin-1.5.2-1.fc4.noarch.rpm
# cd /usr/lib/python2.4/site-packages/MoinMoin/dict
# rm linux.words
# cd /var/www/tips/data/cache
# rm spellchecker.dict
# cd ../..
# rm -rf underlay
# cp -r /usr/share/moin/underlay .
# chown -R apache:apache underlay
# chcon -R -t httpd_sys_script_rw_t underlay
# service httpd start
Rebuilding the spellchecker.dict (at the first spellcheck request) took around two and a half hours on my humble Celeron 600MHz. On the server at work, it was rather quicker (well under a minute).
Thursday 9th February 2006
Local Packages
Updated getmail to 4.5.2

Updated libidn to 0.6.2

Updated perl-Mail-SPF-Query to 1.999

Released my moin package (1.5.2, FC4-only for now)
Fedora Extras
Wiki
Friday 10th February 2006
Local Packages
Updated getmail to 4.5.3

Updated perl-Mail-Mbox-MessageParser to 1.4002

Removed FC3 & FC4 builds of perl-Mail-Mbox-MessageParser as I maintain those in Fedora Extras

Rattled off an mgdiff package following a request on fedora-list

Updated nmap to 4.01
Fedora Extras
Updated perl-Mail-Mbox-MessageParser to 1.4002
Sunday 12th February 2006
Family Get-Together
With Bingning's mum in London this week, we needed a babysitter so that we could attend the game against Charlton. My mum didn't need to be asked twice

The game was enjoyable (a "3-2 thriller" you might say), with Joey Barton improving on his Steven Gerrard impression by smacking in a 30-yarder, Richard Dunne scoring his first non-disallowed goal for aeons, and Georgios Samaras opening his account for the club with a fine header. After the game we had a very nice meal brought over by my mum. Leon behaved very well and had his milk quicker than usual. He even slept from 10pm through till 6:30am. What a great day!
Monday 13h February 2006
Firewall
The shorewall package in Fedora Extras 4 had a major version upgrade from 2.4.6 to 3.0.4. This included a bunch of configuration file changes, so I spent an hour or so this morning upgrading my firewall. Seems OK.
PPTP Client
James pushed an upgrade of pptp to version 1.7.1. He also released RPM packages after just updating version but not bumping release back down to 1. Grr. I tweaked the spec file to fit in with my current cosmetic preferences, and also to include the new document file PROTOCOL-SECURITY (which basically just advises people to use some other protocol instead of PPTP). I released the updated packages locally, on the sourceforge yum repository and in the sourceforge release area.
There's also an update to the pptpconfig package (20060214), but James didn't touch that spec file so we're back to release 1 on that one. Packages updated locally, in the yum repo, and on sourceforge as per the pptp package.
Local Packages
Made some significant changes to the dovecot package:
use the entire patch set from the rawhide package, and then patch in my own changes on top of them; this will make the package far more maintainable as it moves through the beta releases towards release 1.0

since none of the rawhide patches touch autotools input files, there's no need to regenerate the configure script, so I can remove the build-dependencies on all of the autotools; the major beneficial effect of this is that the same source package will now build on distributions as old as Red Hat 9 - yay!

update to 1.0.beta3

the Diffie-Hellman SSL parameter-building job in the postinstall script had to be rewritten because upstream have split off that functionality from the main dovecot binary and created a helper, ssl-build-param (which needs to be told which file to create)
Having run the new package on my home server over the weekend without issues, I'm now releasing it.
I also updated pptp to 1.7.1 and pptpconfig to 20060214.
Fedora Extras
Tuesday 14th February 2006
Valentine's Day
Bingning and I have agreed not to waste any money by buying each other Valentine's Day bumpf. Very sensible I think.
Local Packages
Updated perl-Net-CIDR-Lite to 0.20
Wednesday 15th February 2006
Bingning Back at Work
Today was Bingning's first day back at work since Leon was born, and since Bingning's mum is in London this week, I took a couple of days off to look after Leon. The little rascal decided to have a dump just as I was changing his nappy...
OpenVPN
Being at home offered me the opportunity of testing the client side of the OpenVPN setup I've been working on at work. I must say this has been surprisingly easy to get going and I'm very happy with it so far.
Thursday 16th February 2006
Fedora Extras
Did my bit of the great Fedora Extras rebuild, taking the opportunity to clean up many of my spec files.
Firewall
Upgraded shorewall to 3.0.5, and added blacklist support on my adsl interface:
/etc/shorewall/interfaces:
#ZONE   INTERFACE       BROADCAST       OPTIONS
net     adsl            -               routefilter,norfc1918,tcpflags,blacklist
loc     eth0            detect          tcpflags
rtr     eth1            192.168.17.255  dhcp
vpn     tun0
/etc/shorewall/blacklist:
#ADDRESS/SUBNET         PROTOCOL        PORT
#
# Referrer spammers
209.172.35.0/26         tcp
#
# Persistent virus attackers
218.212.189.0/24        tcp             25
206.3.23.248            tcp             25
Local Packages
Friday 17th February 2006
OpenVPN
Have spent much of this week reading up on, and implementing, OpenVPN for $WORKPLACE. I'm really impressed with the ease of which I've been able to get this to a state where it's now ready for testing by a few people. The documentation and cross-platform support is outstanding. Kudos to everyone involved!
Sunday 19th February 2006
FA Cup
A thoroughly entertaining game, which I watched on TV tonight. I haven't been to an away game all season (can't remember when that last happened - well over a decade ago) so it was nice t osee such a big contingent of Blues in the away end at Villa Park. Excellent finish by Milan Baros but I'd think even the most ardent of Villa fans would agree that City deserved the equalizer, however late it was. It'll be a moment young Micah Richards will never forget, that's for sure.
Monday 20th February 2006
Leon
Big day for Leon today; his first solid food. He had 2g of baby rice mixed with 15ml milk. A small start, and he puked most of it back up again later, but it's a start nonetheless.
Tuesday 21st February 2006
Local Packages
Updated perl-Net-DNS to 0.56; the test suite failed for me so I raised CPAN rt#17783 about it

Updated rbldnsd to 0.996; it now supports gzipped zone files but the upstream spec file doesn't buildrequire zlib-devel, so I'm going to use the Fedora Extras spec file from now on

Updated gtkwave to 1.3.84
Fedora Extras
Updated rbldnsd to 0.996; needed to add buildrequire zlib-devel for the new gzipped zone file support

Updated gtkwave to 1.3.84
The Fedora Extras 4 buildsystem seems to be borked, so I'll have to requeue the builds (5008 & 5020) for that distribution.
Thursday 23rd February 2006
Wiki
Changed over from mod_python to mod_fastcgi. It does seem a little faster so we'll see how it goes on. Will document things at a later date.
Friday 24th February 2006
Local Packages
I've released some of the wiki stuff I've been playing with. No guarantees that anything will work reliably but it works for me.
moin package updated to provide a moin-fastcgi subpackage, which includes an initscript to start moin wiki instances as external FastCGI applications

mod_fastcgi package released (required by moin-fastcgi)

moin-theme-balanced, moin-theme-hypermodern, moin-theme-mentalhealth, moin-theme-monobook, and moin-theme-monomoin released as sample rpm-packaged moin themes (see ThemeMarket for theme details)
The FastCGI packages are currently designed only for the Apache web server, though it should be possible to tweak them for other web servers.
Wiki
Default theme changed to monobook.
Monday 27th February 2006
Local Packages
Updated gotmail to 0.8.8

Updated gtkwave to 1.3.85

Updated perl-Mail-Sender to 0.8.13

Updated perl-Mail-SPF-Query to 1.999.1

Updated perl-Net-DNS to 0.57 (fixing CPAN rt#17783 that I raised last week)

Updated the SELinux information in my moin package

Added subpackages for the colour variations (orange, lilac, pink) available in the moin-theme-mentalhealth package
Fedora Extras
Updated gtkwave to 1.3.85
Tuesday 28th February 2006
Local Packages
Updated curl to 7.15.2

Updated perl-MailTools to 1.74
Fedora Extras
Wiki
Previous Month: January 2006
Next Month: March 2006