Background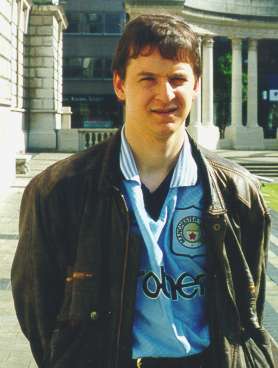 I was brought up in Rossendale (East Lancashire, England) and still have the accent to prove it, though it has mellowed out during the past 20 years or so, in which I've lived in the Manchester area.
I studied Electrical and Electronic Engineering at UMIST (now merged with the University of Manchester and joined ICL (now just a part of Fujitsu) straight from University, where I spent the next ten years, up until July 1996. Following that I moved to a small company called Power X. I was there for nearly six years until the company became insolvent.
In 1999 I married Bingning and we remain happily together to this day; in 2005 we were delighted to become parents, with the arrival of our son Leon.
Work
I'm an electronics engineer, working for a company VirtenSys, formed as a management buy-out of the ASIC team of my previous employer, Xyratex, itself a storage and networking company that was originally part of IBM. I'm working on silicon technology for I/O Virtualisation using PCI Express. In February 2012, VirtenSys was assimilated into Micron, so they're my actual employer. I also look after the site's network of PCs running Windows XP, Red Hat Enterprise Linux, and Fedora, plus HP Workstations running HP-UX.
I have also worked on mainframe computer power and cooling control systems, Macrolan (ICL's high-speed fibre-optic LAN technology), OCLS (a fibre-optic connectivity product, in collaboration with ICL's parent company Fujitsu) and, just before I left ICL, the processor of the Surrey Mainframe, the last of its kind from ICL. At Power X I worked on switch fabrics for the telecoms and high-speed computing sectors.
Interests
My number one interest is without doubt football, and Manchester City in particular. I've been getting to around 50 games a season for the last few years and I also help out Svenn Hanssen with the Manchester City Supporters' Home Page, contributing roughly half the pages. I've visited around 80 of the current English league grounds and had hoped to make it into the 92 Club, but the arrival of Leon means that away trips will be few and far between for the forseeable future. Of course, City's relegations to the second and third tiers of the English professional football pyramid helped regarding new grounds to visit: the 1998/99 season in the Second Division was my best season for new grounds since 1988/89, a memorable season ending in promotion to the top flight. I'm also a member of the Football Supporters' Federation and a subscriber to When Saturday Comes, the Half-Decent Football Magazine. I play the odd game of football (5-a-side) myself too but it's just for fun 'cause I'm rubbish at it!
I like to get out to the cinema every now and again too, particularly if there's a new Quentin Tarantino film out. Musically, I show my age by admitting to liking dinosaur rock bands like Genesis, Pink Floyd and Rush, but my taste is quite varied really and I do have albums by relatively contemporary artists such as Kaiser Chiefs and Kasabian.
Although I never had an urge to travel as a youngster, I've actually seen quite a lot of the world: as well as travelling extensively around my home country following City, I've been to most European countries during two Inter-Railing holidays (Switzerland was my favourite) and visited East Germany, Poland and Russia before the fall of the Berlin Wall. In March 1994 I went to a friend's wedding in New Zealand, and in 2001 I spent a couple of weeks in China, where my wife Bingning originally hails from.
A more recent development, and one that I'd never have expected, is that I've become interested in gardening, with a particular emphasis on growing vegetables. To this end, Bingning and I have an allotment with Sale Horticultural and Allotment Society, for whom I look after the website.